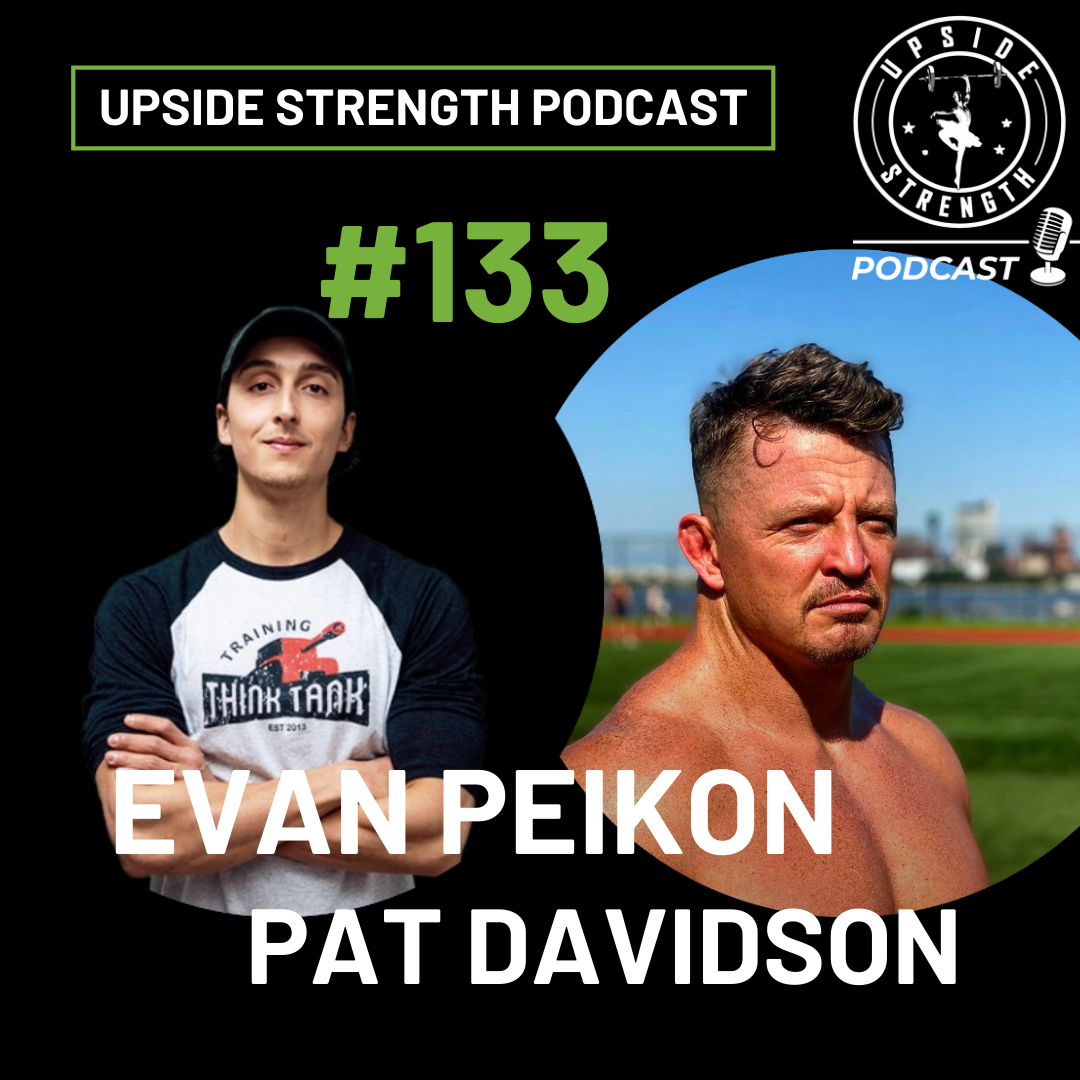 GUESTS:
Evan is the owner of the Emergent Performance Lab, a research group that combines technological innovation, experimentation, and systems thinking to create practical interventions that drive meaningful performance outcomes. He has experience working as a consultant for professional sports teams, special operations performance groups, as well as technology companies who are invested in enhancing human performance. He also a sports scientist, educator and performance coach at the Training Think Tank where we works with athletes across the United States and internationally.
Pat Davidson is a Strength Coach and a PHD in exercise physiology. He lectures across the world with his seminar titled rethinking the big patterns and is the Author of the training books MASS 1, MASS 2 and the recently released Coach's Guide To Optimizing Movement.
EPISODE LINKS:
► Pat's new Book: https://renaissanceperiodization.com/coachs-guide-to-optimizing-movement
► Pat Davidson on IG: https://www.instagram.com/dr.patdavidson/
► Pat Davidson Power Hour: https://www.hypegym.com/education-events
► Evan Peikon on IG: https://www.instagram.com/evan_peikon/
► Evan Peikon on LinkedIn: https://www.linkedin.com/in/evan-peikon-418b6280/
► Full Videl Episode: https://youtu.be/Z1wjOnyOcek
TOPICS:
0:00 - Intro
2:19 - Start
3:44 - The Brain and Cardiovascular Control
16:36 - Muscle Pump & Respiratory Pump
25:26 - Endurance Training Adaptations
39:36 - Rate of Perceived Exertion (RPE)
41:00 - CrossFit & RPE
55:30 - Standarising CrossFit & Sports
1:09:34 - Are We Actually Getting Better?
1:15:09 - Concluding Thoughts
1:22:29 - Coming Soon
PODCAST INFO:
► Podcast website: https://upsidestrength.podbean.com/
► Apple Podcasts: http://apple.co/3mroiB4
► Spotify: http://spoti.fi/34jJtyX
PODCAST PLAYLISTS:
► Full episodes playlist: http://bit.ly/3oSCkxe
► English Clips playlist: http://bit.ly/3gRmAry
► French Clips playlist: http://bit.ly/2K1IoVK
CONNECT:
► Subscribe for more videos here: http://bit.ly/1Xgr5y5
► WhatsApp: https://wa.me/41763949673
► Twitter: https://twitter.com/seanseale
► LinkedIn: https://www.linkedin.com/in/seanseale/
► Facebook: https://www.facebook.com/upsidestrength
► Instagram: https://www.instagram.com/upsidestrength
► Tik Tok: https://vm.tiktok.com/ZSgNAPQF/
EQUIPMENT & PROMOTIONS:
▶︎ Spirometer: http://ebay.to/2YCcSBj
▶︎ Idiag P-100: https://www.idiag.ch/en/idiag-p100-en/ (email me at info@upsidestrength.com for a 20% discount code)
▶︎ Moxy Monitor (outside CH, AUS, ITA, GER): https://www.moxymonitor.com/shop/ (5% off promo code: "UPSIDE" at checkout)
▶︎ Moxy Monitor (CH, AU, ITA, GER only): (email me at info@upsidestrength.com for 20% off)
▶︎ Strength Coach Network: https://strengthcoachnetwork.com/upside/?orid=15781
(50% off on your first month)
DISCLAIMER:
► These descriptions usually contain affiliate links. If you decide to purchase a product through one of them, I receive a small commission at no cost to you. I never endorse products that I have not personally used myself or not found to be beneficial in my life.